Frequently Asked Questions
What Area Do You Serve?
I are located in Vancouver, BC. To check if you are within my service area, input your postode into my service area checker postcode checker to find out.
---
Areas Served Include:
✓ Kitsilano
✓ Dunbar
✓ Southlands
✓ Arbutus-Ridge
✓ West Point Grey
✓ West End
✓ Downtown
✓ Strathonca
✓ Grandview-Woodland
✓ Kensington
✓ Mount Pleasant
✓ Fairview
✓ South Cambie
✓ Riley Park
✓ Shaughnessy

What Pets Do You Work With?
As well as cats and dogs I work with:
Mammals
Mouse
Guinea Pig
Rat
Ferret
Rabbit
Gerbil
Hedgehog
Chinchilla
Hamster
Birds
Love Bird
Canary
Finch
Cockatiel/Cockatoo
Mercedes
Parakeet
Budgerigar
Reptiles & Amphibians
Tortoise
Gecko
Bearded Dragon Lizards
Corn Snake
Frog
How Does Livestreaming Work?
I will alert you when I arrive and you'll see that your pet is fed and taken care of as you need. You can login to your account and watch visit video afterwards! Busy at that time?
How Do Time Chunks Work?
When you are booking private walks or home visits, rather than being offered exact times, you will be offered 2 hour time chunks throughout the day. I will visit your pet between these times. You will recive notifications telling you when I are with your pet, and when the appointment has ended.
If you want me to visit your pet at an exact time, please include this the comments field.
How Do I Install Your App?
When you load my website on your mobile device, you should be presented by a screen like this: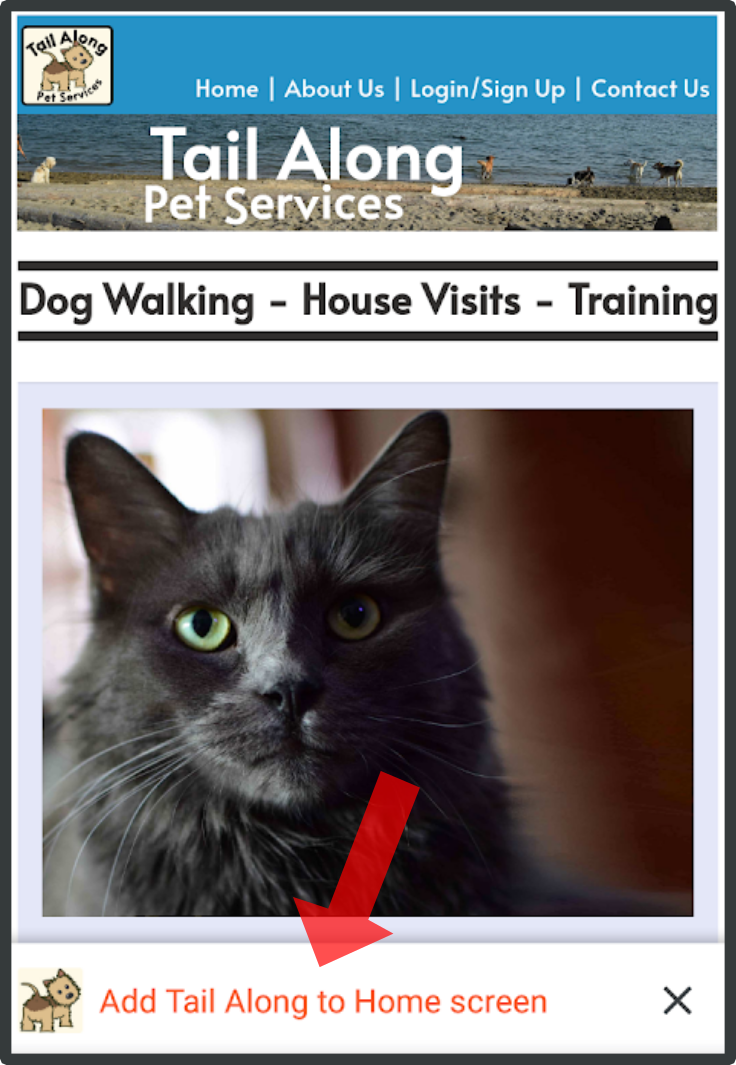 Click on the banner, and my app will be installed!
Note: My app will be on the Google Playstore very soon!